Abraham Lincoln: Hall of Fame Wrestler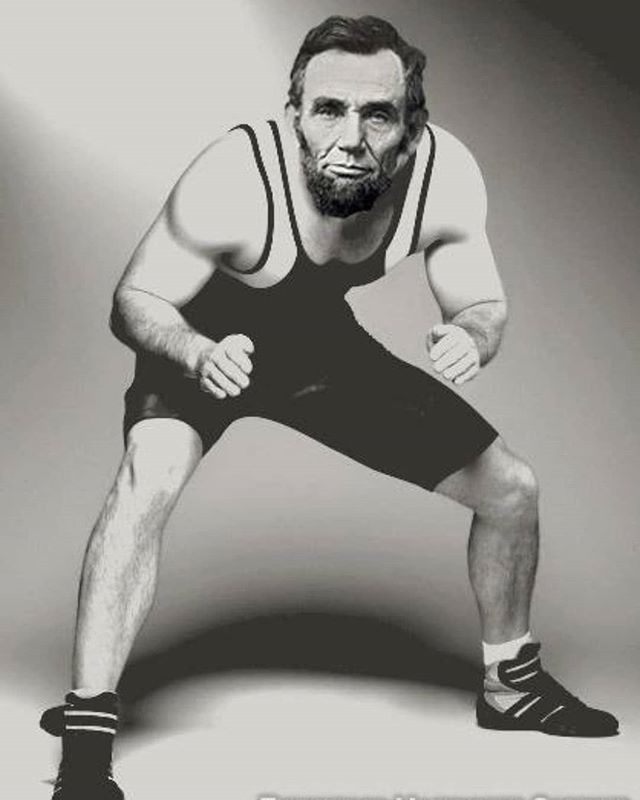 Wrestling was a big part of Lincoln's life
Abraham Lincoln holds the reputation of being one of the greatest Americans to have ever been elected as President of the United States, and with many achievements under his belt, one often slips under the cracks – Lincoln was a fierce (almost undefeated) wrestler.
In fact, Lincoln was so good at wrestling that he was eventually inducted into the Wrestling Hall of Fame. The 16th president of the United States was skinny and lanky, standing six-foot-four-inches tall and weighing around 180lbs, but years of working manual labor as both a farmer in the Kentucky backwoods as well as a rail splitter helped forge a naturally strong specimen of a man who towered over any and all who stood beside him or dared to challenge him.
Before his untimely assassination at age 56 and prior to his career as a lawyer Lincoln excelled at wrestling. Having come from a poor upbringing, Lincoln managed to do a 180 – he became a wrestler, a lawyer and then the president, leading the nation through the American Civil War, preserving the union, abolishing slavery and much more; completing a lot during his four years as president.
Not only did Lincoln 'win' the American Civil War, but according to historians, Honest Abe also won 299 out of 300 wrestling matches in 12 years. This man did not do things by halves.
Putting the local bully in his place
Abraham Lincoln, as a 21 year old in 1830, was the wrestling champion of his county in Illinois. It was around this time he ended up having a match with a man called Jack Armstrong, and Honest Abe became a hometown hero.
The future president was working as a clerk at a store in New Salem when the town's bullies, known as the Clary's Grove Boys, came by. The group was bragging about how no one could beat their champion wrestler, Jack Armstrong, so they were eager to get Lincoln to agree to a fight since he had such an impressive reputation. Lincoln agreed to the match, and the entire town turned out to watch the fight.
The townsfolk had grown tired of Jack Armstrong, leader of New Salem's mischievous Clary's Grove Boys. The gang were known for their mean-spirited pranks, and would force any newcomer into a barrel, nail it shut, and roll it down a hill. They were bullies.
Lincoln won decisively when, after losing his temper when Armstrong began fouling him, he slammed Armstrong to the ground and knocked him out.
Ironically, the two became friends afterwards, and Lincoln defended Armstrong in a court case a few years later
Lincoln only lost one fight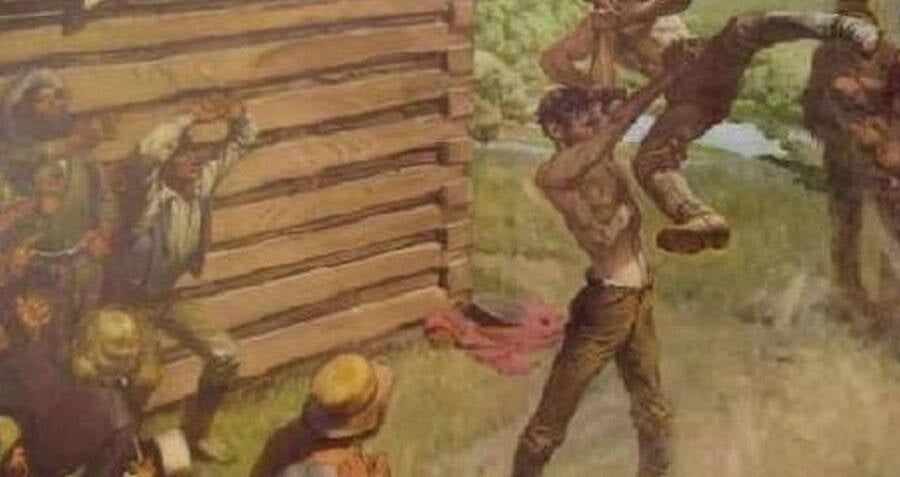 "We can only find one recorded defeat of Lincoln in 12 years," said Bob Dellinger, director emeritus of the National Wrestling Hall of Fame in Stillwater, Oklahoma. "He was undoubtedly the roughest and toughest of all the wrestling presidents."
Lincoln was nearly impossible to beat. According to historians who have researched the win/loss record of Lincoln, he has only one confirmed loss in allegedly more than 300 matches over the course of 12 years.
That sole loss came at the hands of Pvt. Lorenzo Dow Thompson, the St. Clair wrestling champion whom Lincoln met when he was a Captain during the Black Hawk War. Upon hearing of Thompson's wrestling skills, Lincoln was certain in his own ability and as confident as ever, he set up a match between himself and the private when both of their regiments had down time from fighting.
Unfortunately, much like how Armstrong underestimated Lincoln, Lincoln underestimated Thompson. Shockingly, Lincoln for the first time in his career was thrown out of the ring and lost the match.
Other Wrestling Presidents
Of course, Lincoln's wrestling exploits were not anything like the flamboyant professional wrestling we think of now, or even the organized athletics of high school or college wrestling, but regardless he was a man to be feared back in the day.
As it turns out, Abraham Lincoln wasn't the only head of state with a respectable athletic past. He joined the ranks of past presidents like George Washington, who mastered the British collar and elbow style wrestling, and William Taft – a two-time undergraduate champ at Yale. Lincoln was neither the first nor last president to enjoy success in the wrestling arena. Other presidents that dabbled into the wrestling arts were Andrew Jackson, Zachary Taylor, Ulysses S. Grant, Chester A. Arthur and Theodore Roosevelt.
But Lincoln was certainly the best of them all.