Ffion Davies awarded first degree on black belt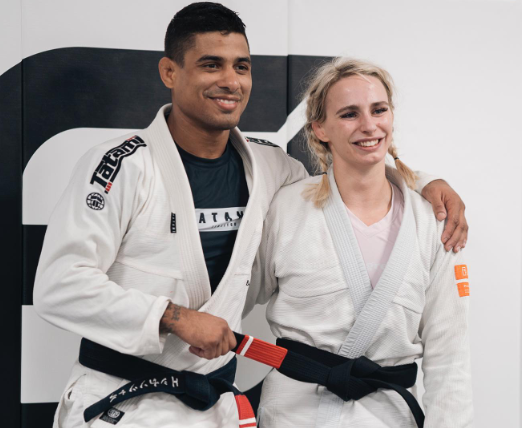 The Welsh grappler, ADCC and IBJJF World Champion, Ffion Davies has been awarded the first degree on her black belt from Jonathan 'JT' Torres. 
Ffion Davies is arguably one of the biggest names in Brazilian Jiu-Jitsu, especially in Europe. The welsh grappler holds a black belt in both Judo and BJJ and has broken a fair few records in the sport; becoming the first European to win the Brazilian Nationals, the lightest ever grappler to win the IBJJF European championship at the absolute division and being the first British/Welsh athlete to win the ADCC world championship – a force to be reckoned with, with or without the Gi. 
Alongside breaking records, Davies achievements go even further at black belt; a month after receiving her black belt she won the No-Gi World Championship (and was the first black belt from the UK to win this tournament), she then won Pan Ams in the same year and has so far won: the IBJJF No-Gi World Championship twice (2018/2021), IBJJF World Championship (2022), ADCC (2022), European Championship three times (2019/2022), Brazilian Nationals (2019), Pan Ams (2019), UAEJJF Grand Slam London winner twice (2019/2020), as well as winning the British National IBJJF Championship (2019) as well.
Having been a BJJ black belt for over five years, this promotion was very overdue and it probably won't be too long from now until we see Davies receive her second degree.
Davies posted to her instagram:
@itsffionnotfiona "Received my first degree tonight from @jtorresbjj 🥹 I can't express how grateful I am to him and to everyone at @essentialbjj for giving me the opportunity to teach and train here. It's not an exaggeration to say this is a dream come true, and not only that but it's not even something I could have envisioned as a baby blue belt. There were barely any other women on the mat, let alone leading a class. To get to teach and lead mixed classes is wild to me still, but I'm fortunate that it's not to the students here and that's thanks to JT and his support.
The past few months since moving here were at first difficult, because I think sometimes finally going for what you want is scary and daunting. But now I can't imagine being anywhere else. Thank you all for making me feel so welcome, the environment is so special 🖤
Also! This is a few years late 😂 I've been a black belt almost 5 years 📸 @shawna.rodgers"