Footage Emerges Of Russian Grappler Paralyzed In BJJ Match On The Road To Recovery
A Russian grappler by the name of Payzutdin Aliyev had one of his grappling matches go viral recently and for all the wrong reasons as he suffered a horrific injury, leaving him paralyzed with a broken neck. The match happened at the Universal Fighters Cup in St. Petersburg, Russia which was a No Gi Grappling competition and was captured on video by a spectator at the event. In the match, Aliyev and his opponent start off wrestling from standing briefly until he attempts a Flying Armbar and as his opponent disengages, Aliyev lands firmly on the base of his neck. The video of the event below is truly horrific and fair warning advised, it is not for the faint of heart.
After Aliyev was rushed to hospital, doctors were quickly able to surmise that he had suffered several injuries to both his neck and head. The image below is of a CT scan taken at the hospital which shows the extent of the damage to Aliyev's neck. Apart from a fractured vertebrae, the full scan also showed significant brain trauma, a brain contusion and a closed craniocerebral trauma. Doctors originally believed that the injury suffered in this BJJ match would lead to Aliyev being permanently paralyzed from the neck down.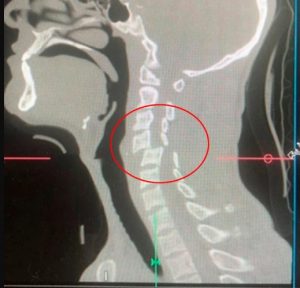 Footage has now been released however, that shows that the Russian grappler is actually on the road to recovery and may not be paralyzed for life after all. The below video shows that Aliyev is now able to walk with assistance and that, although he has a long road ahead of him, he appears to be in good spirits and happy with his progress. The grappler hails from the home of UFC Lightweight Champion, Khabib Nurmagomedov and Dagestan is known for breeding men with the hearts of lions.