Gear review: Everything you need to know about the Revgear Stealth Hybrid MMA Shorts
Check out Grappling Insider's official review of the Revgear Stealth Hybrid MMA Shorts, which we found to be perfect for no-gi BJJ.
Whether you're training in no-gi jiu-jitsu, mixed martial arts (MMA), or just getting in a strenuous workout on a hot day, a quality pair of shorts is a must-have.
Recently, we took a close look at the Revgear Stealth Hybrid MMA Shorts, putting them through several sweaty no-gi sessions and washes. With this review, we hope to give our readers some insight as to what these shorts have to offer to any and all grapplers and MMA fighters.
Benefits of quality training shorts
Some might be wondering why one should even use training shorts specifically designed for grappling. What's wrong with a pair of basic athletic shorts from the local department store?
There are a number of reasons to only wear shorts designed for grappling and MMA when doing those activities:
The fit. The most important feature of a quality training short is the proper fit. Grappling shorts should fit snugly around the waist and hips to prevent them from either riding up or being pulled down (nobody wants to see your underwear!). They should also be loose enough around the thighs to allow for a full range of motion in every direction.
The material. If you've ever enjoyed a hard no-gi BJJ session, you know just how sweaty things can get. For that reason, a quality training short will be made up of some type of moisture-wicking material, allowing for ample ventilation even under the most humid of conditions.
The features. Unlike typical athletic shorts that have pockets and an elastic waistband, top-end training shorts for BJJ and MMA won't have any pockets on the outside to avoid any fingers or hands getting caught. Additionally, training shorts will usually have a hidden drawstring waistband and/or a velcro enclosure, making for a completely clean and safe exterior on the shorts.
The look. Finally, training shorts for BJJ and MMA will reflect the aesthetic of those sports. 
What to look for in training shorts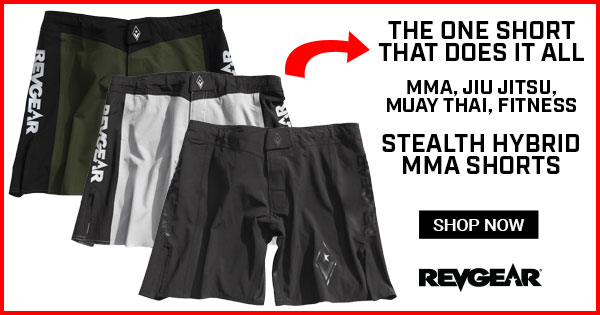 With the benefits out of the way, what are the key features of quality training shorts?
A secure waistband. As we mentioned above, it's crucial that the shorts fit tight around the waist, able to withstand all the pulling that can happen in grappling exchanges. Any quality training shorts will have more than just elastic around the waist. Look for shorts with a drawstring on the inside, as well as a velcro enclosure.
Moisture-wicking material. This may seem unimportant, but trust us, you don't want to be training in water-logged cotton shorts. Avoid any materials that will hold on to sweat, and instead look for fabrics designed to keep you dry.
Hidden pocket. Particularly if you're practicing MMA, you'll want a place to store your mouthguard. Quality training shorts will have a small pocket for just this purpose. Importantly, make sure this pocket is "hidden" inside the waistband – pockets on the outside are not IBJJF compliant and can create problems when grappling.
Stretchable fabric. Consistent with the need for a full range of motion, we prefer shorts made of stretchable fabrics, ensuring you feel no restriction when throwing high kicks or twisted up like a pretzel in a grappling exchange.
Materials and specifications of the Revgear Stealth Hybrid MMA Shorts
With those factors in mind, let's dive into the Revgear Stealth Hybrid MMA Shorts. Here's what they have to offer:
7-inch inseam. We ordered an adult-size small and found that the 7-inch inseam allowed for a full range of motion without being too short or too long.
4-inch slit. The shorts also have small slits on the outer thigh which allow for an even greater range of motion.
Two types of moisture-wicking, stretchable fabrics. The majority of the shorts are made up of Revgear's lightweight Polytech fabric, which is both extremely lightweight and stretchable. The crotch and inner thigh of the shorts consist of Softec material that is slightly thicker but extra stretchable. 
Hidden drawstring and pocket. The Revgear Stealth Hybrid MMA Shorts have a drawstring and small pocket on the inside of the waistband, ensuring that these shorts are IBJJF compliant.
Velcro enclosure. The shorts also sport an interlocking velcro enclosure designed to keep them securely fit around the waist.
Double stitching. One important feature of the Revgear Stealth Hybrid MMA Shorts that could be easily overlooked is the double stitching. This ensures the shorts will hold up in the long run, are extremely unlikely to tear at the seams, and won't fray around the edges.
What we learned about the Revgear Stealth Hybrid MMA Shorts
After giving these shorts a try in several no-gi BJJ sessions and workouts, and washing them after each use, we found a number of things to like.
Revgear MMA & Grappling Shorts
Incredibly lightweight. Our favorite part of these shorts, by far, is how light they are. Coming in at just over half a pound, they are certainly substantial enough to be durable over many wears and washes, but are still absurdly comfortable to wear, no matter how hot the training room might be.
Sweat is no problem. In addition to being extremely lightweight, the shorts do an excellent job of wicking away sweat and moisture. This means you won't have the shorts clinging to your thighs like plastic wrap after a long no-gi session. This moisture-wicking feature can go a long way in preventing skin infections like ringworm. 
Extremely breathable. We also found these shorts to be quite breathable, allowing for plenty of airflow. The fit is tight enough that no hands or feet were caught in the shorts during rolls, but also loose enough – thanks in part to the slit on the outside of the thigh – that air could move freely, keeping our legs cool.
Perfect fit for grappling. Fit might be the single most important feature of any piece of grappling apparel, and we can confirm that the Revgear Stealth Hybrid Shorts are perfectly designed for grappling. They fit tight around the hips, but are still loose enough and stretchy enough to allow for a full range of motion. Simply put, these shorts are made for BJJ.
Understated design. Admittedly, design is more of a personal preference, but we loved the design of these shorts. Clean, simple designs and colors make them a go-to option to pair with any rash guard. With that said, our one critique is that we would have liked to see the design work stitched on rather than screen printed.
Color options
The Revgear Stealth Hybrid MMA Shorts are available in four different color schemes: black on black, black on gray, gray on black, and black on olive green.
Summary
We found that the Revgear Stealth Hybrid MMA Shorts are ideal for daily BJJ training or BJJ competition. 
The bottom line is that these shorts are super lightweight, very breathable, and surprisingly comfortable no matter how sweaty you might be. 
And in addition to key features like a hidden mouthguard pocket and interior drawstring, the shorts are made to last with double stitching.
Get 10 % OFF ALL Revgear Brand Products when promo code INSIDER10 is entered at checkout! Promotion is not applicable for B2B and/or Wholesale orders.