Kate Bacik – One to Watch – Fighter Profile
Name: Kate Bacik
Age: 27
D.O.B: 25/05/93
Nationality: Polish
Location: Croydon, London, England
Gym: New Wave Academy, Croydon
BJJ Rank: Purple Belt
Height: 5"7
Weight Class: Lightweight
Kate Bacik is a name that's been popping up a lot recently not just regarding BJJ, but MMA too. Bacik is a fierce cage fighter and grappler, ranking in at purple belt in BJJ. Like many MMA fighters, Bacik has an extensive martial arts background prior to entertaining BJJ. Having started Muay Thai when she was 17, (she has been doing it for 10 years on and off) a few years later Kate started training MMA. An injury in MMA training (resulting from a failed break fall) led to Kate needing to take up BJJ to up her overall MMA game and to prevent injury. Kate has trained BJJ for around five years. Being an MMA fighter, of course No-Gi grappling is favoured. When asked which sport does Bacik prefer; BJJ or MMA? Without hesitation she says, ""Definitely MMA. The less rules – the better."
Bacik has premiered on numerous BJJ promotions recently as well including; Empire Grappling Invitational, Battle Grapple, Submission Series and some smaller local shows. Alongside fighting, Kate is also a coach at New Wave Academy. Bacik coaches; striking, MMA, grappling, wrestling and she's a PT and yoga instructor too.
Watching Bacik perform, she enters the fight appearing incredibly confident and head strong, but how does she get into that head space? Bacik responds, "When you lose, no one actually cares. People might care for five minutes but they forget, and then get on with their lives. The only person who gives yourself a hard time is you. Get rid of that mentality, stop putting pressure on yourself and you will perform so much better." Bacik continues – "I go there like I've got nothing to lose, I'm the underdog, I'm ready for this."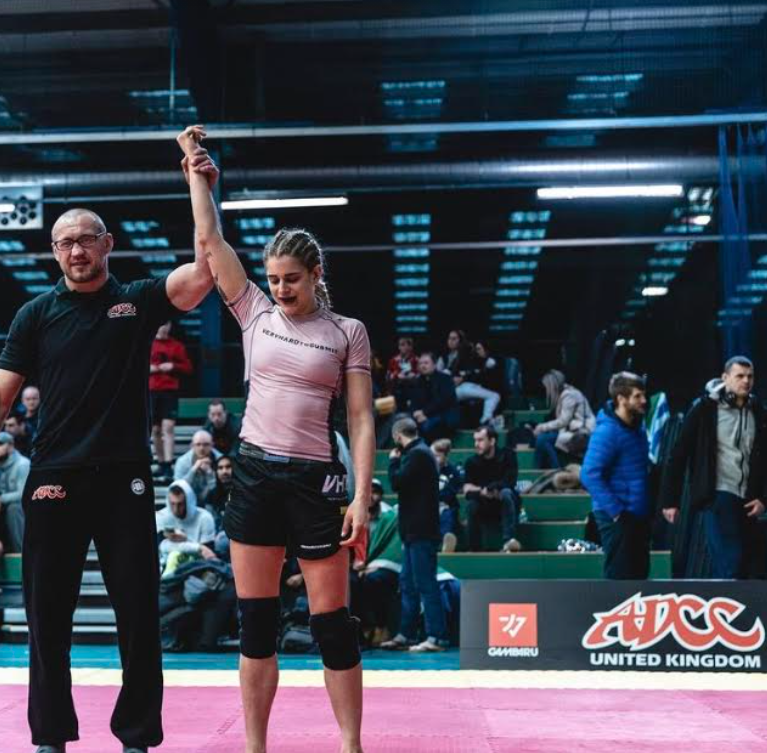 When it comes to Bacik's BJJ fight style she states it's, "Constant pressure, loads of scrambles, and being quite reactive so I can beat people at their own game. I'm just very unorthodox. I think unorthodox is the best way to describe it. I put myself in bad positions where people could easily beat me in those positions and I end up actually winning from those positions."
As unorthodox as Kate's fight style may be, her favourite submission is still the classic RNC, and she's also partial to a sneaky heel hook (or two). When asked if there is anyone Bacik would like to fight she says, "I'll fight anyone who will be a challenge for me. Anyone that's better than me will be a good match. I'm not picky. I'm not choosy with names or I don't think 'she's a bitch I would like to fight her', it's just like will this match challenge me? Will it force me to get better? Then, yes! Anyone, anyone, anyone." As it stands Kate's goals for the next five years is to snatch a UFC and ADCC belt. Great goals to have, and totally achievable for a beast like Bacik. Kate Bacik – One to Watch.
Follow Kate Bacik on Instagram: @purplesupernova7
Read my last interview 'How to Succeed in BJJ with Black Belt Steve O'Keeffe' here.