UFC Champ Leon Edwards Awarded BJJ Black Belt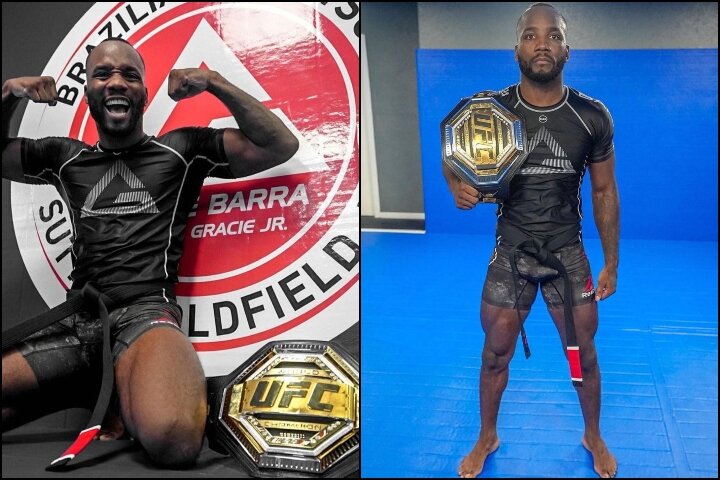 Newly crowned UFC welterweight champion Leon Edwards has another belt to add to his collection – a Brazilian jiu jitsu black belt. Gracie Barra shared the news on their official Instagram:
"Congratulations on both belts @leonedwardsmma 👏 This long journey requires consistency and passion, mastering skills and techniques. Receiving a Black Belt is an unforgettable moment! We are very proud to have you representing the red shield 🔺 You are a true champion!! Thank you Professor @tombjj for the amazing job."
Followed by his coach Thomas Bracher who is the head coach and owner of Gracie Barra Sutton Coldfield who captioned an Instagram post:
"My brother @leonedwardsmma congratulations on your well deserved & earned black belt! A true embodiment of a great martial artist with a work ethic & determination like no other. Thank you for being a part of my journey & allowing me to be a part of yours a truly special moment as I hand out my first ever black belt on behalf of myself & professor @victorestimagb from all of us a @graciebarra congratulations Professor."
The British fighter from Birmingham, England, posted on Instagram,
"Last night I finally got my black belt in jujitsu. What a month it has been thanks again @tombjj @victorestimagb and @graciebarra the journey continues. #OSS #beltsonbelts"
Edwards Time in the UFC
On August 20 Edwards stunned crowds at UFC 278 after knocking out reigning Welterweight champion and pound-for-pound king Kamaru 'Nigerian Nightmare' Usman with a head kick in the last minute of the fight, making him the new king of the 170-pound division.
The English UFC veteran has been quietly working his way up the rankings since he joined the promotion in 2014 and has been working towards a title-shot for the last few years.
Edwards managed to put together an amazing ten-fight unbeaten streak that included wins against legends of the sport like Nate Diaz, Donald Cerrone, and Rafael Dos Anjos. This epic five-year stretch culminated in a rematch with Usman for the title. That was where Edwards shocked the world by knocking out 'The Nigerian Nightmare' in the very last round. Since returning home to Birmingham, England, Edwards has now collected another belt, that being his black belt in BJJ by his coaches Thomas Bracher and Victor Estima.