Eddie Bravo gets promoted to 4th degree on his BJJ black belt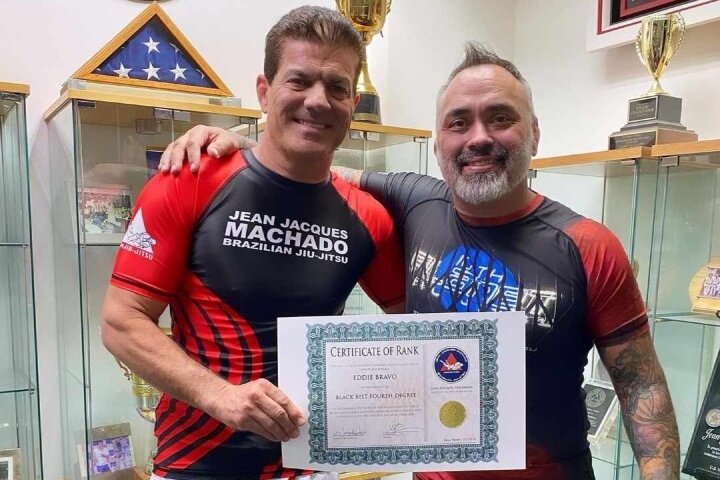 No-Gi Jiu-Jitsu legend, Eddie Bravo, has been promoted to 4th Degree Black Belt in Brazilian Jiu-Jitsu.
Bravo was promoted by his coach, 7th Degree Red and Black Coral Belt, Jean Jacques Machado. He was the first American BJJ black belt under Machado. Bravo's last promotion was in 2013.
After earning his black belt in Brazilian Jiu-Jitsu, in 2003, Bravo began teaching his own style of jiu-jitsu and founded 10th Planet Jiu-Jitsu. As many people know, 10th Planet Jiu-Jitsu has a completely separate style when compared to traditional BJJ.
The Great Gracie Upset
Bravo's Jiu-Jitsu style really started to become notorious when he beat one of the famous Gracie's with his self-developed rubber guard technique. Bravo beat then-four-time world champion and three-time ADCC champion, Royler Gracie, in the quarter-finals at the ADCC World Championship in 2003, as a brown belt. During the match, Bravo ended up playing his rubber guard and submitting the champion via triangle.
After this famous win, he was awarded his BJJ black belt by Jean Jacques Machado and after that, Bravo opened his first 10th Planet Jiu-Jitsu school in Los Angeles, California.
However, there was a rematch scheduled for the 2005 ADCC, but unfortunately it got cancelled because Bravo was injured. Eventually the two fighters gave the people what they wanted and the rematch happened at Metamoris 3 in March 2014. This made the match a nine-year postponed rematch, no one knew what to expect.
At the time of the match, Bravo was 43 and Gracie was 48, both were way past their peaks. The result was a tie, although many still believe that Bravo heavily dominated the match, despite what the Gracie's would contest.
Bravo has repeatedly proved that he can hang with the best of the best, and is in fact, one of the best. Thank you for your contribution to the sport and congratulations on this milestone that shows your unwavering and continual commitment to the sport.