Ffion Davies encourages women to close the BJJ pay gap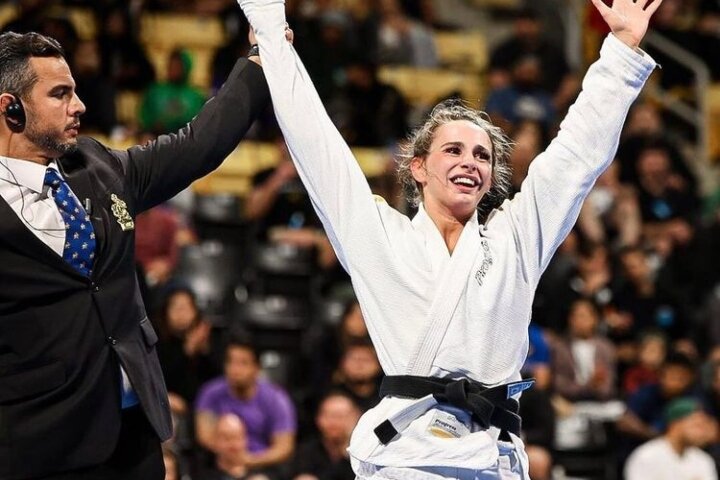 Ffion Davies is the most accomplished and successful grappler to come out of the UK, regardless of gender, and she has forever been a strong advocate of women's BJJ. Davies is both a judo and BJJ black belt.
In 2022 Davies won the No-Gi and Gi World Championships, ADCC and the IBJJF World Championships, in the same year. 
In doing this, she became the first Welsh and British black belt IBJJF World Champion as well as becoming the first ever Welsh and British black belt ADCC World Champion; in turn she also broke the record for being the first Welsh and British black belt to ever win both major championships in the same year.
The wage gap is real and BJJ is no exception. There are far more men in the sport, so men tend to get more opportunities, and getting paid is often a given for them. Whereas with women, we are expected to be grateful for the opportunities given to us, and aren't expected to demand the same treatment as men – such as getting paid to do shows/seminars and getting expenses covered (as most male athletes expect when they are invited on to a show/ to teach a seminar).
The British BJJ superstar has recently taken to Instagram to encourage up and coming professional female BJJ athletes to not accept low/no fees and to urge female athletes to feel confident enough to make promoters – and gyms alike – know their worth. This kind of attitude tends to have a ripple effect making it easier for the women after you to make their mark and feel confident in asking for what they too are worth. 
Cutting women short in exchange for 'exposure' won't help grow women's jiu jitsu and it won't encourage women to have confidence and enforce their value, when we still aren't taken as seriously as men are in the sport.
Davies published an honest post on her Instagram with the caption:
@Ffiffifromthebronx: "To my fellow pro ladies – please please PLEASE don't accept low or no pay for your classes, seminars or matches on shows. If you're suffering from imposter syndrome like I did, a great perspective I heard years ago from @livia_giles was that if we don't charge our worth, we set a precedent that the girls coming up behind us won't be able to demand the pay they deserve and undercut them. 
"You deserve to be paid on professional shows, you deserve to be paid for your classes. We would not expect this of men, and this is how we support women's bjj – by supporting the athletes also."