In 2007, Alec Baulding was just a fanboy. This weekend he is competing in the ADCC world championship. (Alec Baulding Diaries, Part 1)
Editor's Note: As part of our 2019 ADCC coverage, we are featuring blogs written by competitor Alec Baulding. This is the first in Alec's series about his experiences in ADCC.
It's a little less than a week before the ADCC world championship, and this is likely going to be the biggest ADCC ever – just because it's 2019. The social media is just so much bigger now. Like the eyeballs – the people watching the ADCC – there's more people watching ADCC than ever before. So it's going to be the biggest one, with lots of very talented and big name athletes – in addition to being hosted in California. All these factors are hyping this to be one of the biggest tournaments and one of the most prestigious ADCC's ever.
My Journey to ADCC
I remember being a white belt or blue belt and I never thought I would be doing this tournament.
ADCC was always a tournament that I was inspired by watching athletes like Marcelo Garcia, Roger Gracie, Ronaldo Jacare, and so many other great people compete. It was just magical. I remember being a white belt or blue belt and I never thought I would be doing this tournament. For me, it was always my heroes out there competing and doing really well and doing these awesome techniques but not something that I could do.
Fast forward a few years later and I actually had a great friend and mentor of mine, Chris Moriarty, go on to win the 2006 east coast trials.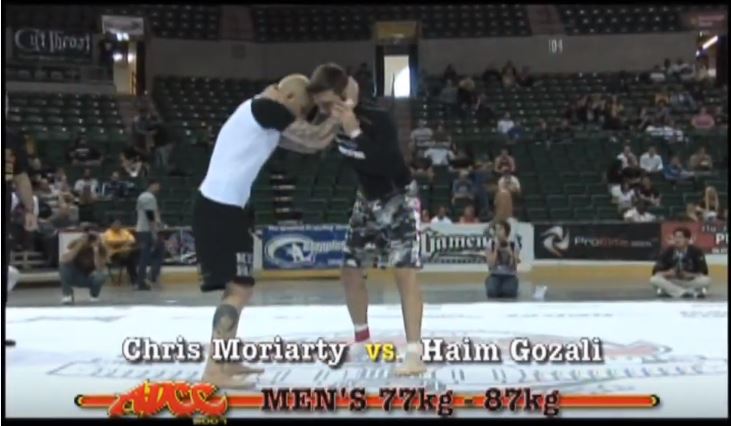 Crazy story about Chris, he actually broke his leg after the trials fighting Rafael Lavato at this old tournament called the Budweiser Cup they used to have, and it was a freak accident where I think Lovato was going for a foot sweep. So Chris stepped out to defend the foot sweep and then his leg snapped. Chris had to get metal plates put into his ankle at the Tibia, I believe, or maybe both bones and it might still be there.
Chris is very great competitor, always has been great at Jiu Jitsu. So, he couldn't train for at least a month before the ADCC.  That was very inspirational for me. Seeing Chris break his leg, and then he somehow managed to come back with no time left to prepare.  And so we're doing our best thing to help him get ready.  
Also, at the same time, Cobrinha had just moved to America.  He moved to Atlanta to train with us.  So, we're helping him get ready as well.  Unfortunately, no one knew who Cobrinha was in the states.
Cobrinha had won the gi world championships once or twice before, but the American market didn't really know who he was like they do now.  So, he was hoping to get into the actual tournament, but that didn't happen.  But he was still training in the hopes that it would happen.  And he ended up eventually having an exhibition match along with Ryan Hall (not with Ryan Hall), but they both ended up having the exhibition matches at ADCC in 2007.
I just wanted to bring all this up because for me I was always outside looking in. I've trained with all these high-level guys and they're getting ready for this tournament and I just tried my best to help them prepare.
I just remember thinking, maybe one day I can do that. I want to be at that level where I can compete on that stage.
I was fortunate to be able to go up to the 2007 ADCC in New Jersey. Me and some guys, we got up, rented a van and we drove up there from Atlanta.
So it was a crazy road trip. I remember the whole experience was amazing. Being around those athletes, watching those matches and every match was awesome. I'll never forget when Marcelo Garcia would get up to compete. Everyone in the whole venue would get up and then move over to where he was competing. So that was amazing to watch.
I'll never forget going back home, we had a long road trip back home. And I just remember thinking, maybe one day I can do that. I want to be at that level where I can compete on that stage. And that was 2007 and it just never worked out for me because I was in school and life got in the way.
So I just, I never got a chance to do the trials and it wasn't very promoted. It's not like now where it's big. I mean ADCC is very prestigious, but the trials they would give you three weeks' notice that they were going to be in a small place in Florida.
So it was just hard to do, especially being a broke student. I couldn't do all the tournaments, but I never gave up hope. And eventually in 2018, I had the resources and the right environment to attempt the trials. I had just moved to Sweden the year prior and saw great opportunity to go do the trials in 2018, which were in New Jersey. I didn't really have any expectations. I just knew I wanted to go compete. I just wanted to go do the trials just so I could say I did it.
I think I had the right circumstances and it worked out for me. I had the right mentality. I had the right skillset, and a great coach in my friend Jeff Cummings to help me get through some very tough matches with very tough athletes.
Check out all of our ADCC coverage, including more from Alec Baulding and interviews with many of the other athletes. Stay tuned as we add more throughout the week.