Tom Hardy Trains Brazilian Jiu-Jitsu at Daisy Fresh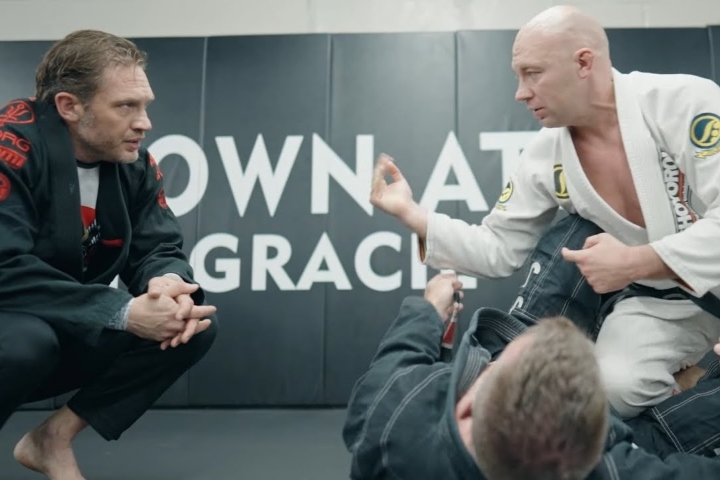 Movie star legend and avid Brazilian Jiu Jitsu advocate Tom Hardy has been incredibly active in the BJJ community as of late, and has recently been spotted down at Daisy Fresh in Mount Vernon, Illinois for some extra knowledge from founder and head coach Heath Pedigo.
Most celebrities in the jiu jitsu world tend to have one gym they train at and don't feel the need to explore other avenues at other gyms with different coaches (and that is absolutely fine), however since competing it appears Hardy is taking his training up a notch and doing what most serious competitors like to do – get some training in at other gyms.
Where Will Hardy Be Competing Next?
The 45-year-old blue belt won three gold medals after competing in August and September, and he is gearing up for a couple of more BJJ matches before the year ends. Hardy is reportedly set to compete in the No-Gi British Open on December 3, and Grappling Industries London on December 10, per Bloody Elbow's Anton Tabuena.
The video below shows Hardy amongst the class in his REORG Gi, attentively watching Pedigo talk through the knee slide and passes from half guard. Half way through, Pedigo partners up with Hardy and shows the full effectiveness of the drill on him and then watches Hardy perform the drill on a different training partner, giving him tips throughout.
Prior to visiting Daisy Fresh, Hardy gave another legendary jiu jitsu coach a visit – John Danaher at New Wave. Hardy's Instagram account also shows group photos of him training at some smaller gyms in the U.S., one of which was a Tom Deblass affiliate, with whom later became friends with Hardy, and according to Pedigo's comments, it was Tom DeBlass who brought Hardy into the class.
Tom Deblass Meets Tom Hardy
DeBlass shared his own experience with the famous Hollywood actor on his Instagram account:
"A few weeks ago I woke up to an Instagram tag from Tom Hardy. Turns out he was in the Cincinnati area filming and popped into my affiliate @nkymartialartsacademy with the great Scott Smith my (black belt and police chief). We ended up exchanging phone numbers.
From that day on there have been some days we FaceTimed two hours straight. Not just jibberish, we talk in depth. From conundrums, ideologies, irony to oxymorons.
The parallels between certain aspects of our life is almost too coincidental. We speak of Jiu-Jitsu often, I send him techniques that I believe can help his style. He's just quickly becoming an incredible friend, and I am so thankful to have connected with him.
Last night we spoke of my Father. Since my Father died, in the manner in which he did. I felt largely responsible for his death. Tom is a smart smart man. He knew exactly what to say and how to say it to remove the dagger that has been sticking in my heart since his death. I will replay those words for the rest of my life."