22 Celebrities Who Do Brazilian Jiu Jitsu in 2022
Brazilian Jiu-Jitsu is getting more and more popular among the celebrity circuit; some have been doing it for years and others are new to the game, some celebrities do it to help them prepare for fight scenes in movies, but many just do it for themselves. From Hollywood a-listers to basketball players, to rockstars, comedians, and surfers, the BJJ bug is spreading far and wide.
There are few celebrities that are in the BJJ black belt club, but there are a few nonetheless, read here to find out more. Whilst a lot of actors take up BJJ short-term for their roles, some stick with it; so let's take a look at what celebs are currently training BJJ in 2022.
1. Shaquille O'Neal
Lets start this list with the huge human and basketball champion that is Shaquille O'Neal. Surprisingly, the basketball player has been training MMA on and off since 2000, and is said to have a decent level in BJJ. If there's one person I wouldn't want to be caught in a crossface by it has to be Shaq. It is terrifying to think of an athlete who is more than seven-feet tall and weighs over 300lbs who is also skilled with a background of MMA, Jiu Jitsu and Judo is capable of if you make him mad… Watch him do some grappling here:
2. Russell Brand

The comedian, actor and activist is arguably one of the most active celebs with BJJ, and is overtly passionate about the martial art, frequently talking about the (positive) effects it has had on his life on his YouTube channel. Brand recently got promoted to purple belt in October 2021 by his coach Chris Cleere.
3. Wagner Moura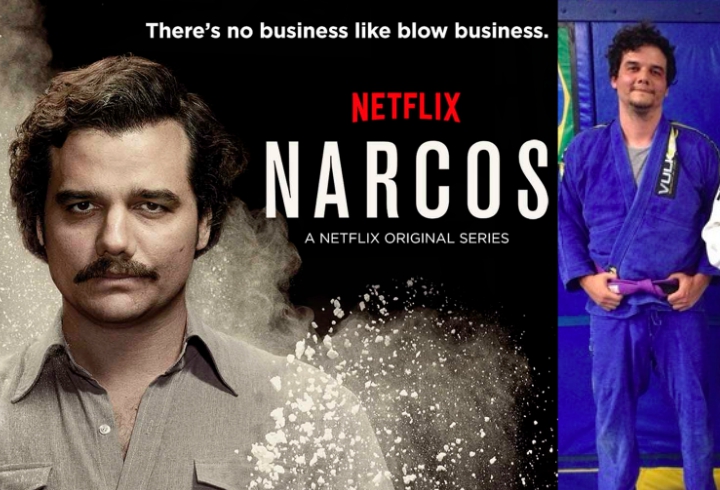 Netflix and Narcos star Wagner Moura i.e. Pablo Escobar is actually a BJJ purple belt, which isn't too surprising as the actor was born in Brazil. There is video footage of him rolling with 7th degree red-black belt Royler Gracie and he has also trained with former UFC middleweight champion and black belt, Anderson Silva.
4. Kelly Slater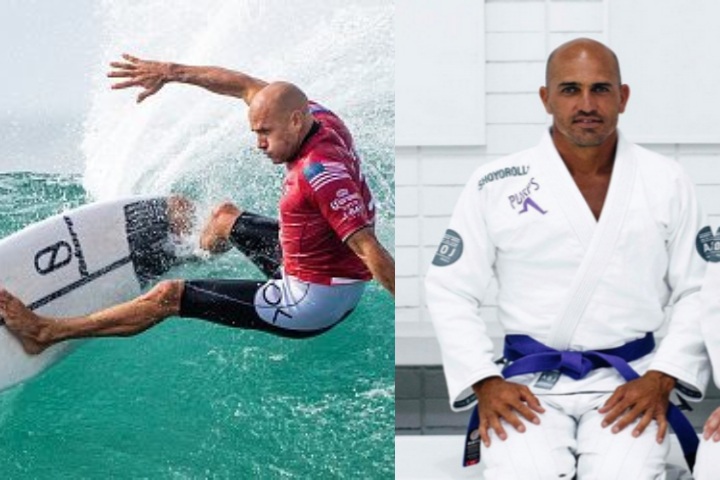 The American pro surfer who was crowned World Surf League champion a record number of 11 times is also a BJJ purple belt. Even as a surfer himself, he went as far as to say to GracieMag, "Put your kids into Jiu Jitsu before other sports." Slater has been training for the best part of a decade.
5. Tom Hardy
Alongside Russell Brand, a-list actor Tom Hardy is also a UK BJJ fanatic who dedicates a lot of his life to the sport; and he is currently ranked at blue belt which he received in 2020. Hardy was first introduced to BJJ in 2011 when he had some training for his role in Warrior where he played an MMA fighter. The actor is also head ambassador for REORG, which is a charity with a mission to provide serving military personnel and veterans with BJJ classes, memberships, uniform, and any other support they may need to get started and continue the sport.
6. Jonah Hill

The Hollywood actor who has starred in many films such as: 21 Jump Street, Superbad, Forgetting Sarah Marshall, Get Him to the Greek and Wolf of Wall Street to mention a few, started training BJJ in 2018, and has been active since. Hill is still a white belt but he is one of the most recent celebrities seen training BJJ, and it is fair to say he has caught the BJJ bug. The Superbad star said in a recent video for GQ magazine, that he counted his Shoyoroll BJJ Gi as one of the essential things that he can't live without.
7. Joe Rogan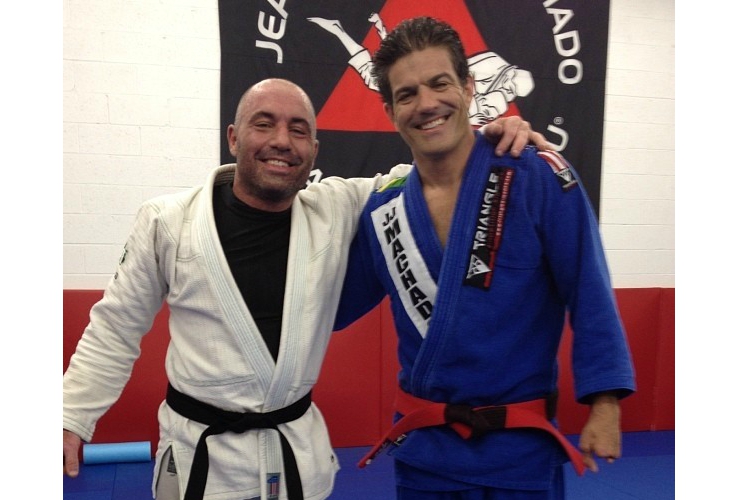 The multi-talented: comedian, Fear Factor host, podcaster, mixed martial artist and UFC commentator began training Jiu Jitsu in the early days back in 1996 under Carlson Gracie in Hollywood. He is a 10th Planet black belt under Eddie Bravo and received his black belt from Jean Jacques Machado in 2012. Rogan became interested in Brazilian jiu-jitsu in 1994 after watching Royce Gracie fight at UFC 2: No Way Out, and shortly after got a job with the MMA promotion as a color commentator.
8. Rikki Rockett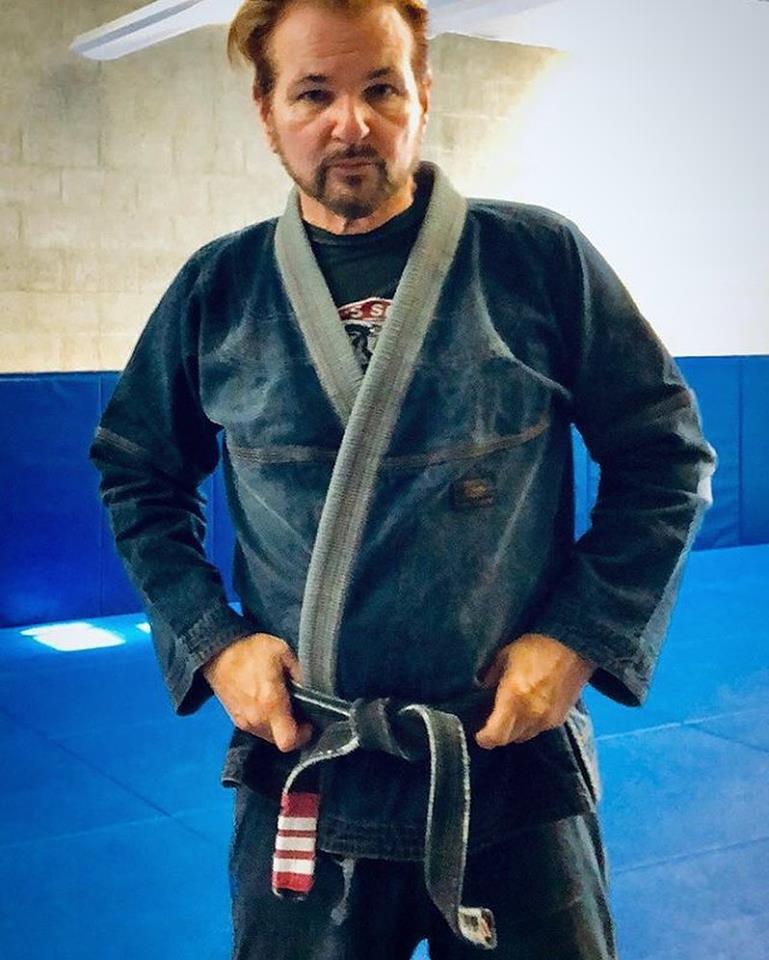 Rikki Rockett is not only the drummer of the legendary multi-platinum metal band Poison, but also a third-degree black belt under Renato Magno. Similar to Rogan (and many others) he got into jiu jitsu in the early-mid 90s after seeing Royce Gracie fight on the early UFC promotions.
9. Zoltan Bathory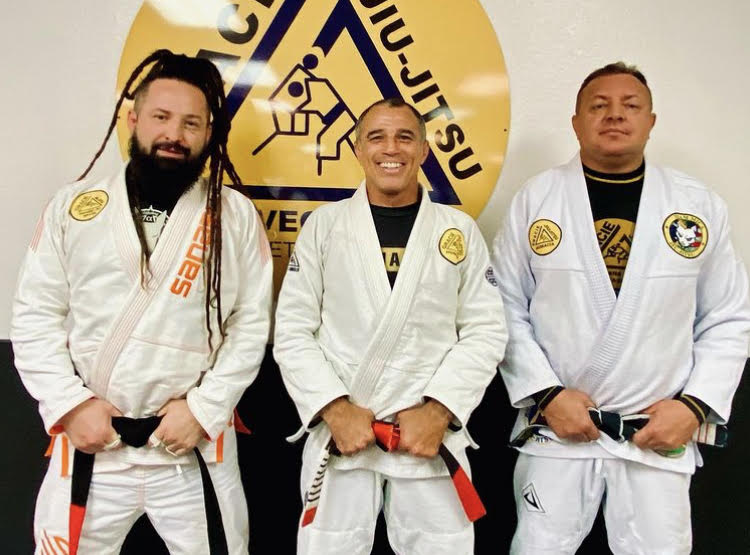 Another rockstar to add to this list is heavy metal band, Five Finger Death Punch guitarist Zoltan Bathory who is both a BJJ and Judo black belt. The rocker has been training since 2008 after having a training session with the legendary UFC Hall-of-Famer Royce Gracie. Bathory was promoted to black belt in March 2021 by Royler Gracie and Mica Cipili after training for 13 years. Bathory also competes and recently won gold at the IBJJF International Open Jiu-Jitsu Championship in LA in both the black belt super heavy masters and absolute masters back in March 2022, so he is definitely not a man to mess with!
10. Guy Ritchie
The famous movie director (Snatch, Lock Stock and Two Smoking Barrels, Sherlock Holmes etc..) is a well known BJJ black belt, who has trained the martial art since the early 2000's. He was promoted to black belt by Renzo Gracie in 2015 and is also a black belt in Shotokan and Judo.
11. Jason Statham
The action movie hard nut (starred in Snatch, The Italian Job, The Expendables and many more), is also one in real life; Statham is a purple belt and trains under the Renzo Gracie flag. Not only does Statham train BJJ he also trains Wing Chun, karate, kickboxing and was on England's national diving team. Needless to say that Jason Statham is a pretty bad ass dude in real life as well as in his films.
12. Ed O'Neill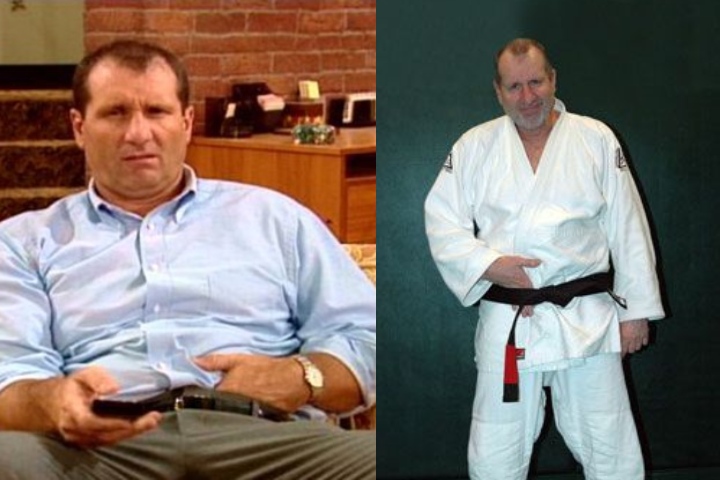 AKA Al Bundy from US sitcom Married… with Children has trained for over 30 years and is one of the earliest celebrity BJJ practitioners and earned his black belt from Rorion Gracie back in 2007. The coolest part about Ed O'Neill Jiu Jitsu journey? He started training when he was 42! In the 2012 TV documentary I Am Bruce Lee, O'Neill states that he considers getting his black belt "the greatest achievement of my life, apart from my children.
13. Jonathan Lipnicki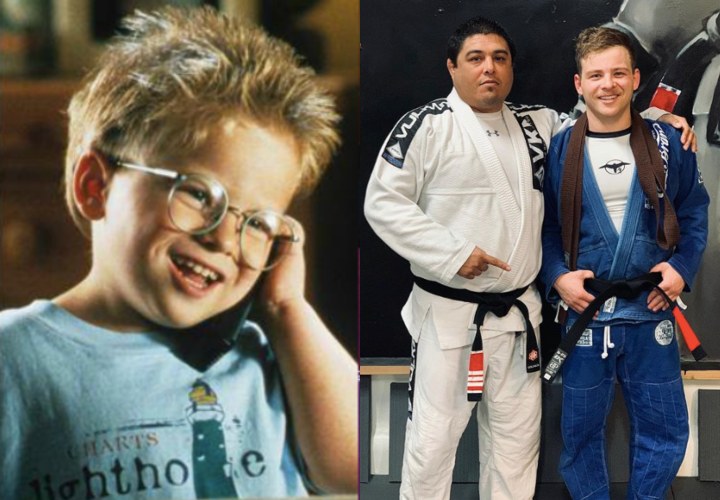 Remember Stuart Little? Well his older brother George is now a BJJ black belt! Lipnicki has had a fruitful career with famous roles as a child actor in movies like Stuart Little, Jerry Maguire and The Little Vampire, and even though acting is his main focus, BJJ still remains a big part of his life. He started training when he was 15 years old and received his black belt from Timmy Bonds in 2020, after 14 years of training. Jonathan trains in Renato Magno's Street Sports Academy. His family also owns an MMA promotion in California (Fight Sports Entertainment) and his mother is a BJJ blue belt. John is one of the rare celebrity BJJ practitioners that has actively competed in Jiu Jitsu (mostly as a white and blue belt, and once as a purple belt), winning several medals along the way.
14. Usher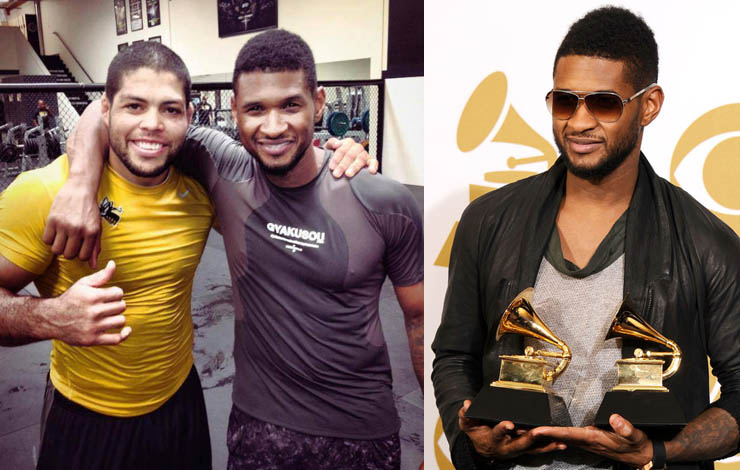 Now this one took me by surprise. What you might not know about this R&B superstar is that he is also a huge fan of MMA and BJJ in particular. He is known to recreationally train with ATOS head coach and IBJJF black belt world champion Andre Galvao but is also a frequent visitor at the Machado academy in Beverly Hills. Moreover, Usher has also trained with the legendary Anderson Silva.
15. Mario Lopez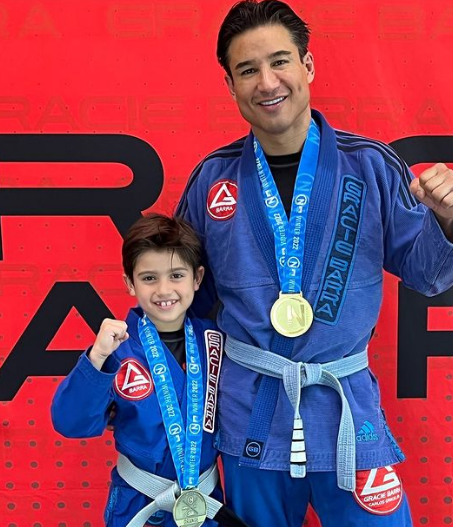 I.e. A.C. Slater from Saved By The Bell, recently competed and won gold in the blue belt division back in February 2022; his son also competed and medalled which was a real sweet moment for them both. The 48-year-old actor started training BJJ around five years ago.
16. Maynard James Keenan
The lead singer of American rock band Tool has been training BJJ for quite some time. He started training in the mid 90's under Rickson Gracie and became a purple belt in 2015 and recently earnt his brown belt in November 2021 under Rickson Gracie black belt Luis 'Limão' Herédia. The 58-year-old was also awarded both his blue and purple belts by Herédia.
17. Nicolas Cage
This A-list actor has been training BJJ for years under Royce Gracie. Although his rank is unknown, he didn't do himself any favors in the celebrity BJJ practitioners department with THAT movie. You know the one I am talking about (Jiu Jitsu, 2020) that contains barely any jiu jitsu, but it's cool he trains nonetheless. Filmmaker Dimitri Logothetis says in an interview with the AU Review that apparently Cage did "about 80 percent" of his stunts himself for the film.
18. Scott Caan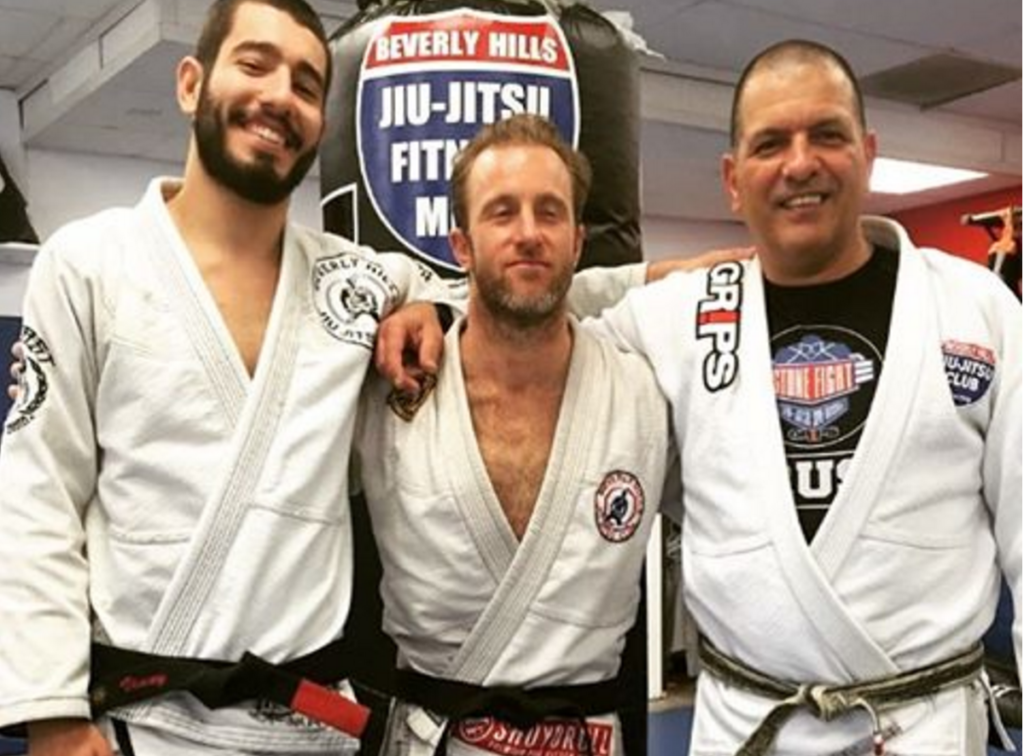 It took the Hawaii 5-0 star 15 years to become a member of the celebrity BJJ black belts' club, but he managed to get there in 2016, earning his promotion from Marcus Vinicius. In a statement to The Tolucan Times, Caan said: "If I'm not working I'll try to practice three or four times a week; if I am working, once a week–that is what holds me back." He currently trains at Egan Inoue's Grappling Unlimited academy in Hawaii with fellow co-star Alex O'Loughlin.
19. Alex O'Loughlin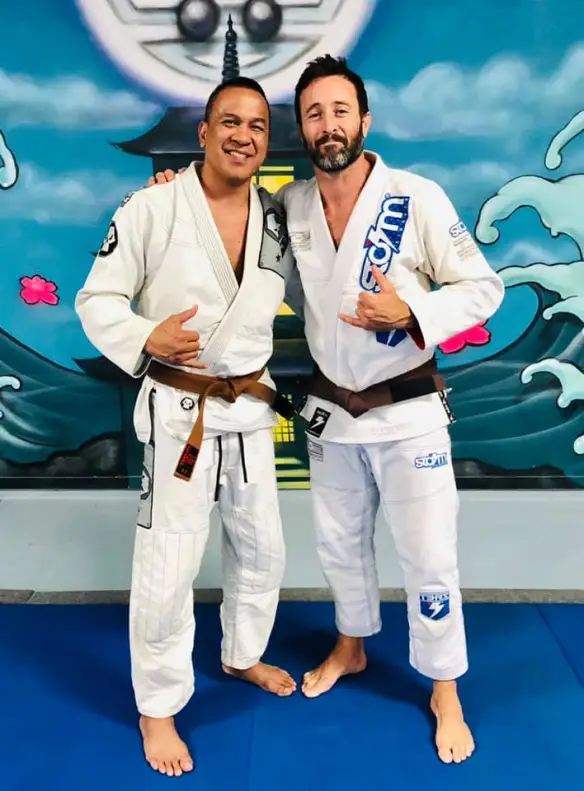 Scott Caan's fellow co-star and rolling partner, O'Loughlin is a brown belt under Egan Inoue and got promoted in 2019, so maybe he will join Caan and the others in the celebrity BJJ black belts club sometime soon? When speaking of his coach Inoue, who is a third-degree black belt, five-time MMA world champion and two-time BJJ world champion O'Loughlin says: "What separates him from other teachers and makes him a master is his spiritual connection to the martial arts. Egan has an innate capacity to impart his life philosophies onto his students, as well as the art itself." Watch O'Loughlin demo a guillotine variation with Rener Gracie below:
20. Keanu Reeves
The A-lister known for his roles in the John Wick and The Matrix trilogies picked up his BJJ white belt when he was already 50 years old. He learned BJJ from the Machado brothers to use it in his acting career, most notably for the John Wick movies. Reeves is a black belt in Judo, and has been intermittently training Jiu Jitsu under Rigan Machado for the past eight years, but still remains a white belt. Keanu reports that it was the intense training for the role of John Wick that got him to engage in BJJ more frequently. Watch Keanu train with the Machado brothers for John Wick 2 below:
21. Ashton Kutcher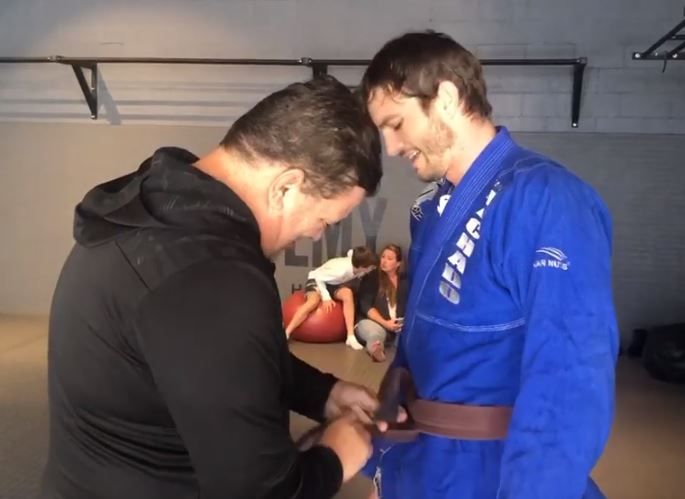 Kutcher is much more than just a rom com superstar, he is also a brown belt under grappling world champion and 8th degree BJJ red and black belt Rigan Machado. Having trained BJJ since 2012, he was awarded his brown belt in 2019 and although that may seem somewhat quick, Rigan Machado once famously claimed that Kutcher would beat Conor McGregor in a straight grappling contest. Watch black belt silver ADCC medalist Craig Jones run rings around the That 70s Show actor.

22. Vin Diesel
Whilst some celebrities are accused of using a fast-track system through the BJJ belt rankings, the same can't be said for Vin Diesel. The actor famous for the Fast & Furious movie franchise, has been training Brazilian Jiu-Jitsu on and off for the past 20 years. The 54-year-old is currently a blue belt. Similar to Kutcher, and other actors who also train under Machado, they are taught a "non-sparring" system which is based on "flow jiu-jitsu". Machado is the creator of this system 'without sparring for celebrities; supposedly it has more than 700 techniques, which can be drilled and trained without risking injury.