Nicky Ryan Promoted to Brown Belt by John Danaher
One of the youngest talents that the ADCC saw this year was 18 year old Nicky Ryan. After an impressive run at the 2019 ADCC, Nicky beat Jamil Hill-Taylor and lost to the legend that is Paulo Miyao, (by only 1 point). He has already beaten the likes of Urijah Faber and Geo Martinez (10th Planet). If this list isn't already impressive enough, he beat Imanari on Polaris 2018 and became featherweight champion!
He is 18!
Nicky wrote on Instagram earlier, thanking his teammates and coach, John Danaher and ADCC legend – Garry Tonon (who managed the quickest submission this year in the ADCC tournament). Nicky, at such a young age is already surrounded and coached by some of the worlds greatest, including his older brother, Gordon Ryan, who managed to submit Garry Tonon in the ADCC this year.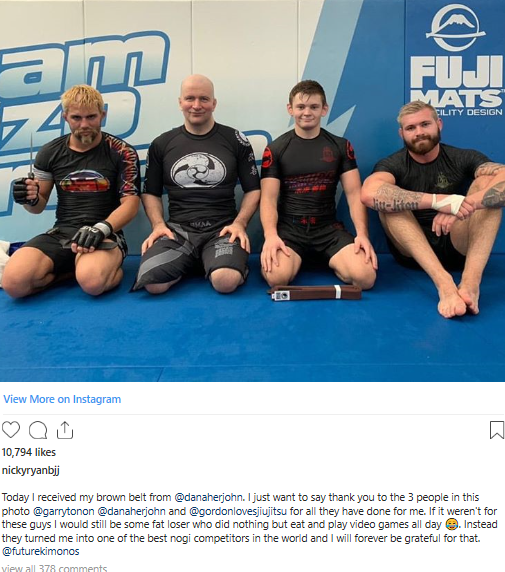 Nicky wrote:
'Today I received my brown belt from @danaherjohn, I just want to say thank you to the 3 people in this photo @garrytonon @danaherjohn and @gordonlovesjiujjitsu for all they have done for me. If it weren't for these guys I would still be some fat loser who did nothing but eat and play video games all day, instead they turned me into one of the best nogi competitors in the world and I will forever be grateful for that. @futurekimonos'

Instagram @nickyryanbjj
After such an impressive year, Nicky receives his brown belt after 2 years at purple. Professor John Danaher is infamous for his ability to coach and make incredible competitors, and Nicky is no exception. Nicky is now a firm 'Danaher Death Squad' member and was promoted to brown belt, which is not only well deserved but incredibly exciting. We're all looking forward to seeing what this young man is going to do and achieve over the next decade or so!